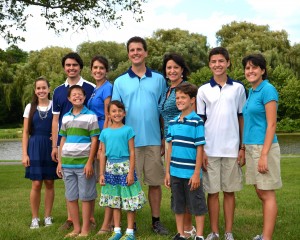 Box On is the culmination of time in the life of one family. Rick and Alicia Vinecki have been married for twenty-seven years. Back in the days of singleness Rick had his own band as a teenager. The Melody Kings were a group of young guys playing some awesome polka music back in the eighties. Alicia was part of the band known as Polka Family. She played clarinet alongside her brothers, mother and father.  As fate would have it Rick and Alicia met at a polka dance in Detroit and were married just seven months later.
They are now the parents of eight amazing children. Each child has shown musical ability and the desire to perform.  When the kids were young the family began playing simple music for local assisted living and nursing homes.  Recently they  have extended their performing to music festivals.  They play a variety of standards from swing, rock, country to polkas and Latin music.
Lucas has now retired from the band.  Maria plays bass and keeps the beat steady.  Olivia plays keyboards and sings lead on many familiar songs.  Julia plays guitar and sings lead and backup vocals.  Alex plays drums and trumpet and sings.  Tony plays trumpet on a few tunes and Bella sings many crowd favorites.
*Now, you may be saying "I only count seven.  This is true. Our son Nick, was born Down Syndrome. He too enjoys music and plays an accordion in his own special way.  You may see Nick perform with us or he may be enjoying one of his other desired activities on any given weekend.
 How did we get the name "BOX ON"?
Here's the story…
Many people have asked how we came to be known as "Box On". We are a large family and for many years we've traveled together in a suburban. We are packed in like sardines leaving no room for additional items. Rick made a wooden box with a metal frame which was attached on the back of our suburban. In this box went luggage, portacrib, stroller, musical instruments, or even beach items such as a cooler, chairs and towels. I (Alicia) would yell out, "put the box on". Then everyone knew that we were ALL going. Our band is all about being together so we thought it only appropriate to use a term that means togetherness to our family.